By Dr. Angie Glynn
August 27, 2012
Finding the perfect running shoe can be a difficult task.  A good running shoe can maximize your performance but a bad one could plague you with injuries.  There are many factors that go into purchasing the perfect shoe.
There are generally 7 categories of shoe construction and knowing a little about these categories will help you make a better choice. Neutral shoes have a good blend of flexibility and stability. Flexibility shoes offer more shock-absorption. Stability shoes offer high stability and cushioning. Motion-control shoes provide rigidity and stability. Trail running shoes offer increased toe protection, outsole traction, stability and durability. Cushioned shoes are those with little support but more shock absorption. Lightweight shoes come in varying degrees of stability and cushioning.
Arch type is very important in choosing the correct shoe. Do you have a high-arched foot, one that supinates ? If your feet do not roll enough, the legs absorb extra shock.  Runners should seek added cushioning but not extra support. Flat-footed runners often overpronate ; their feet roll inward more than the ideal amount, increasing the risk of injury. Added cushioning and support can help. The normal arched runners have a natural rolling of the foot after impact that dissipates shock. You have a little more leniency as far as shoe choices.


















By understanding the parts of a shoe you can make informed choices about which running shoe is best for you and your feet.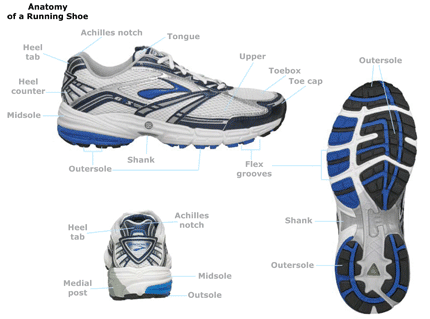 Running shoes are formed on a last. Running shoe last patterns are important for stability. Straight lasts are built along the shoe's straight arch to provide maximum stability. Semi-curved lasts are molded straight toward the rearfooot while having some curve toward the forefoot. This provides stability and flexibility. Curved lasts are built to curve from the toe to the heel.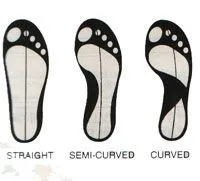 Consider your weekly mileage. Are you running more than 32 miles, less than 18 or somewhere in between? Those running high miles may need to invest in a shoe with increased durability. Next, you must consider your BMI. Heavy runners need the added cushion and control. Remember to replace your shoes every 500-600 miles.

Running shoes are changing rapidly. The major shoe companies roll out new designs twice a year. Many offer midsole air, gel, and tube chambers; springs; recoil plates; Gore-Tex and other membrane fabrics; breathable liners and mesh outer fabrics; and better support and stability.

Do your homework, study the shoe reviews and discuss with your doctor .
Comments: