By Dr. Marc House
January 14, 2013
Happy New Year Friends of Podiatry Associates!

Ringing in the new year often brings on fresh starts in the form of a new year's resolution, such as cleaning out the closet, a trip to Goodwill, and its a great time to begin a new exercise program. Many people falsely tell themselves this will be the year, only to fall short of their goals. While the failure is usually multifaceted, there are decisions you can make to help meet your particular goals. It is common to see a large influx of new members at your health club and exercise equipment sales are brisk. Fast foward a few weeks or even a few months and many of those same people have abandoned their well intentioned plan at better health and fitness.

One of the most common causes is poor planning. It is really important to set realistic goals and work up to your full potential. Beginning at a pace which may seem slow and ineffective at first, can often prevent injuries and allow you to assess your fitness level at a safe stage. It is also more likely to make you enjoy the workout and ultimately reap a greater benefit. It is essential to select a plan of exercise which you enjoy. If you try to force yourself into running, yet you hate running, you will likely not 'stick with the plan'. Studies have shown that having an exercise partner is also an effective way of keeping yourself motivated.

Your feet and lower extremity factor into this planning as well. Your feet and legs are involved in essentially every activity you will chose to do. Even upper body strength training causes you to use your legs and feet to stabilize your upper body.

1. Select an activity.
Arguably the most important part. Consider several factors including the amount of time you have, whether you would like to exercise alone or work better w
ith a group. Also your fitness and wellness level, which really are two different things. Arthritis for example, depending on the severity and which joints are involved can markedly affect in which activities you may be able to participate.
Swimming and water aerobics are great for people with arthritis or limited mobility. Cycling, whether it be in a spinning class or on the street or trail can be a fantastic cardiovascular workout and reduces the stress across most joints. High impact activities such as running can be highly rewarding and a very efficient use of you allotted exercise time, but may not be suited to all individuals. Strength training and core exercises as part of a cross training program can supplement whichever type of exercise you chose as your core.
If you are diabetic, blisters and injuries can be more debilitating than for others. A water shoe should be worn while in a water aerobics class and your instructor can make recommendations for you. A well fit cycling shoe is also a good bet. Typically cycling or spinning shoes are more form fitted and rigid than other athletic shoes and you should be fit by a professional. Next, be sure to check your feet for injuries such as abrasions, or hot spots and address those areas immediately. This may be an indication you need to select a different shoe or sock.

2. Proper shoe selection.
This is probably one of the most important parts of the plan. Generally speaking a well fitted running shoe will work for most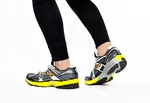 dry activities, even if you are not actually running. A good running shoe should have a fairly stiff heel counter ( its the part at the back of the shoe which rests against the back of your heel). Give it a good squeeze, which it should be resistant to. Having a stiff heel counter provides greater control of the rearfoot and subtalar joint. This joint provides a great deal shock absorption during heel strike. Next, the shank of the shoe should also be fairly rigid to transition this same control forward into the midfoot. Having a dense shock absorbing EVA sole is also helpful in absorbing additional pressures, especially if you are exercising on hard surfaces such as concrete, black top etc. Running shoes are also more likely to have less leather and an upper made of more breathable material and can even be water-proofed.

3. Proper sock selection.
Socks are an important component, yet are often overlooked. Typical white cotton socks may seem like a great choice, but cotton lacks the wicking capabilities of materials such as wool, acrylic or bamboo. These materials will pull moisture away from you skin, keeping you more comfortable and reducing friction and blisters.

If you have questions regarding the fit of any shoe, be sure to ask your friendly neighborhood specialist at the Foot & Ankle Institute. We are well versed in almost all exercise specific shoes and can recommend various types and possible modifications depending on your specific needs and foot type. Sometimes a shoe insert or orthotic may be needed to help you reach your goals. Next a gait evaluation can be performed in the office and and help determine which exercises and shoe types are best suited to you and your particular gait (the way you walk). We want you to reach your goals and if we can help please do not hesitate to call or email with questions or about setting up an apppointment prior to beginning your program. We would much rather help you reduce your risk factors, than treat you for a stress fracture or other types of over use injuries common to the foot & ankle.

So get the new year off to a great start and good luck!
Comments: