By Dr. Timothy Howard
December 02, 2013
You may have read Dr. Coker's blog in October regarding post-traumatic arthritis and noticed she mentioned the idea that joints can be fused or sometimes replaced. You may even have had a knee or hip replacement already and were wondering if your ankle may need something too, as it no longer works like it used to.

Yes, we do replace ankles, just like knees and hips are replaced. However, not everyone walking through the door with arthritis in their ankle is a good candidate for an ankle replacement. First of all, an ankle replacement needs to be done by an experienced and certified foot and ankle surgeon, as the procedure is technically demanding. One must be qualified, capable, and willing to deal with any and all potential complications. Secondly, all patients considering an ankle replacement must be thoroughly educated on the risks and benefits of the procedure as well as the post-operative recovery. They must also understand the alternatives as well in order to make a well informed decision. Lastly, it never hurts to obtain a second opinion if you do not feel adequately informed about the procedure.
With that said, what makes a patient a good candidate for an ankle replacement? There are numerous criteria, some of which are more important than others. When considering a total ankle replacement, the assumption is that you have attempted conservative measures such as bracing, nonsteroidal anti-inflammatory medication, injections and shoe gear modifications. The criteria for an ankle replacement is obviously not a systematic checklist of indications as every case and patient must be considered individually in light of their physical and social situation. However, with that said there are some basic indications that are considered with each patient.
An ideal candidate for a total ankle replacement (TAR) is an individual who is less than 250 pounds, over 50 years old, has no hindfoot deformity, has a lower physical demand, and has severe pain secondary to ankle arthritis. Relative contraindications to a TAR is a high activity level (determined between you and your surgeon), weight greater than 250 pounds, bone loss, osteoporosis, and a history of infection. A patient with diabetes and a history of Charcot Neuroarthropathy, or with an ongoing infection or ulceration should never be considered for an ankle replacement.

A careful look at the literature comparing ankle arthrodesis, or fusion, to a total ankle replacement, shows that the early and intermediate-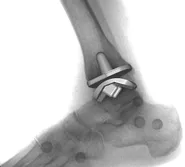 term outcomes of the two procedures are comparable. Individuals with a fusion tend to have a worse functional outcome due to the restricted motion, whereas, those with a replacement have a higher rate of complications. One study in 2001, noted that 67% of patients with an ankle fusion were happy with their results after 20 years. In comparison, a study in 2007 reviewed 531 total ankle replacements and found a 76% 10-year survival rate. This was confirmed in a 2009 study that found a 75% 10-year survival rate of total ankle replacements.

Both an ankle fusion and ankle replacement has its risks and benefits and it is important, that if determined to be a candidate for either procedure, that you understand the potential risks and the long term effects. Ankle replacements have come a long way and can be a very gratifying and beneficial procedure but it certainly is not for everyone. However, if you are suffering from ankle arthritis it is a procedure to discuss with your foot and ankle specialist to determine if it is a procedure for you.
Comments: